Winder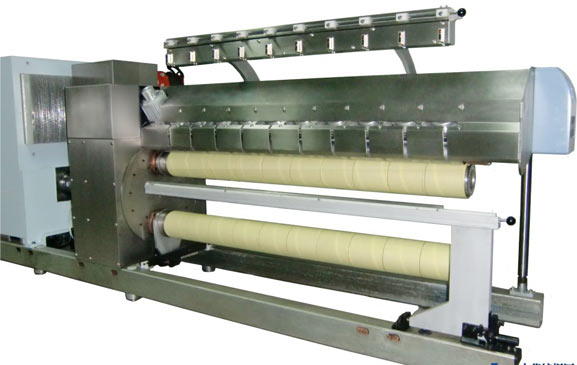 1.型号/Model:TCTQ299-1500
2.主要技术参数/Main Parameters
1)适纺品种/Applicable: POY & FDY
2)卷绕速度/Take-up speed: 2500-6000m/min
3)导丝形式:转翼式
Guiding: rotating wing
4)卷绕形式: 回转式
Take-up type: turning
5)锭轴直径及长度
Spindle Dia. & Length: Ø125*1500mm
6)卷绕筒数
Take-up bobbin: 10pcs
7)卷装规格
Cake spec.:120* Ø 420mm
8)筒管尺寸
Bobbin size: Ø 125* Ø 140*150mm
9)全机功率: 实耗功率约7KW
Power consumption: around 7kW
10)外形尺寸
Dimension: 3350*670*1300mm
3.设备技术水平和特点
Technical Feature
1)机电一体化控制,采用专用驱动器,系统可以对驱动器参数设置、
实际参数读取功能,内置卷绕数字模型有动态控制技术,
保证卷绕速度恒定,丝饼张力均匀。
Machtronic integrated control with specified driver.
This system can set parameter of driver and 
get practical parameter,built-in digital matrix of active control 
to ensure stable winding speed and even tension of cake. 
2)采用伺服电机驱动切换旋转,达到丝饼在切换过程中减少冲击,
Use servomotor drive, switchover and rotate,
it reduce the cake has impacted in switchover process. 
Auto shift with high reliability, has nice shape cake and good unwinding 
3)压紧辊启动由电动机直接驱动,并且具有跟踪再启动功能。
Pressing roll driven by motor directly, it with tracking and then start.